Corporeal Mime: The Actor's Art of Movement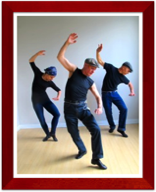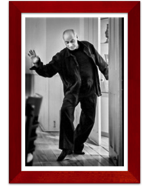 "The art of stage developed from mime, which is the representation of inner movements by visible outer motions. Mime is the stem of the tree that has branched into dance and drama... It is to be expected that mime, as expressive of effort and a fundamental creative activity of man, will, after its long period of neglect, become once more an important factor of civilized progress, when its real sense and meaning have been reacquired."


                                                                                                         - Rudolf Laban (1878-1958)
Giuseppe's comprehensive Workshops, Lecture/Demonstrations and Screening of his educational/artistic 47 minute Documentary Film on Corporeal Mime: The Actor's Art of Movement with music by International Juno Award-Winning Classical Canadian Composer, Marjan Mozetich, can now be booked! Giuseppe's artistic skills and theatrical knowledge will inspire you with innovative approaches to Movement and Acting styles. Explore the differences and similarities between the Traditional Speaking Actor and the Corporeal Mime Actor. These services are meant for professional, emerging and beginner artists of the performing arts. Whether you're an actor, mime, clown, dancer, arts educator, yogi, director, film animator, motivational speaker, olympic figure skater, or an aerialist, these services will certainly appeal to the "creative artist" in you.
LOCAL


Giuseppe is now offering Intensive Workshops, Lecture/Demonstrations and Screening of his Documentary Film in his private studio in Winnipeg, Manitoba (only 3 participants accepted per session). Private "One-on-One" sessions are also available upon request.
 NATIONAL


Giuseppe also offers Intensive Workshops, Lecture/Demonstrations, and Screening of his Documentary Film on Corporeal Mime: The Actor's Art of Movement across Canada. These services focus on Corporeal Mime, Acting, Yoga principles and techniques such as: Body Segmentation, Counterweights, 3Dimensional Body Work, Dynamo Rhythms, Emotional Memory, Walks, Animal/Human Characterization, Improvisation, Yoga Stretches, Breath, and Meditation. The work is then Choreographed to selected excerpts from Condello's performance repertoire, better known as "Figures of Style." Participants will also have the opportunity of creating their own artistic concepts under the guidance of Giuseppe Condello. Private "One-on-One" sessions, which can be tailored to the artists needs, are also available upon request.
INTERNATIONAL
For International Workshops, Lecture/Demonstrations, Screening of Documentary Film, Performances, and Fees designed specifically for artistic and/or educational purposes, are available upon request.
TO PURCHASE A COPY OF DOCUMENTARY FILM, CONTACT DIRECT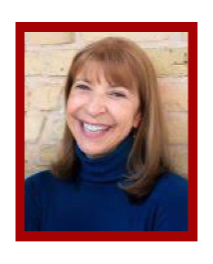 "I had the great pleasure of meeting Giuseppe Condello about 5 years ago, of course his reputation, his talent and his incredible dedication to excellence were attributes that I had known about for many years. So, it was a great delight that in meeting him I discovered that as well as being an incredible artist, Giuseppe is an extremely generous man that wants to share his art form.
Two seasons ago we at SCD brought him into the studio to teach a workshop. We did not know if it would be a match or whether the students would embrace the work. It was almost simultaneous, as Giuseppe was leaving the building that students were standing in our office wanting to know if it were possible to work with Giuseppe again. Last season the one workshop escalated to a full week.
When our 3 Fourth Year students heard that they might be involved in a project with Giuseppe they were thrilled.
I do believe this project (Mechanicians) has so many important layers, starting with students being able to work with a legend, a legacy that no one else can offer and an opportunity to do some meaningful work at a time when so little work is available or being done, during very difficult and dark times.
I was thrilled to be asked to be part of this project. I do believe as well as bringing my expertise to the project this will be an environment where I will learn. What an amazing gift after my long journey in this art form that there is still room (and a deep desire) to enter into projects where I can continue to be challenged, to learn and to grow...a true gift."
Odette-Graziela Heyns, Co-Director
The School of Contemporary Dancers
Winnipeg, Manitoba, 2021
"Giuseppe Condello is a recognized and valued senior artist in Manitoba. He has had a long, rich career here in Manitoba, nationally and internationally. I believe that his plan to document and share his knowledge and experience while exploring emerging expressions of corporeal mime through new technologies truly reflects his artistic practice. I am struck by Giuseppe's capacity to adapt and expand his art practice as the occasion arose throughout his career. That he would seek to further intertwine his passion for movement and acting with his love of teaching into a two-part work (documentary and installation) presents a unique opportunity for mature reflection even as Giuseppe continues to stretch and reshape his creative expression."
Nicole Matiation, Executive Director
On Screen Manitoba
Winnipeg, Manitoba, 2021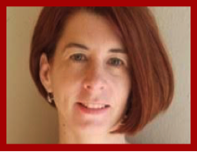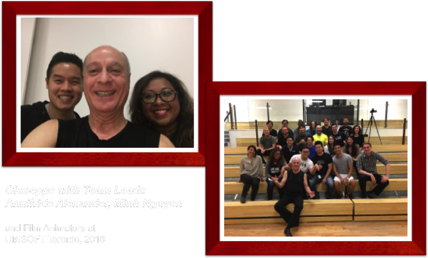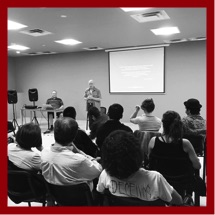 Giuseppe Condello with son Anthony Condello representing Canada at the Paraseutica Mime Training Centre in Monterrey, Mexico, December 2019 with Workshops, Lecture/Demonstrations and Screening of Giuseppe's Documentary Film on "Corporeal Mime: The Actor's Art of Movement."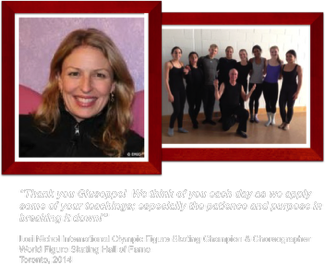 Hey Giuseppe,
"I found my mime practice and
understanding of the technique
(especially from an actorly point of
view) in this week-long "Artist in
Residence" with you, has
increased in depth and breadth.
And for that, I am truly grateful."
Flavia Bertram
London, England
January 15, 2014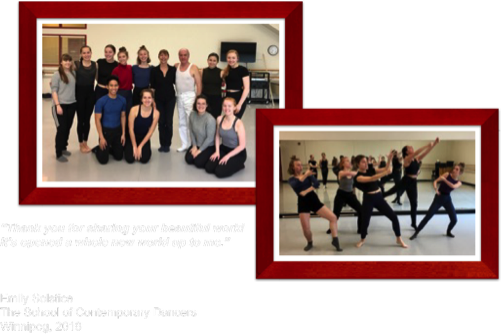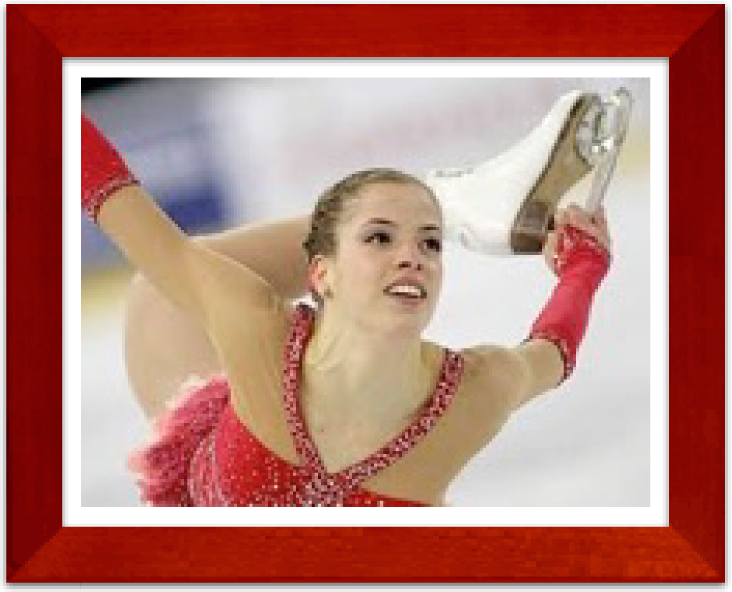 "Thank you Giuseppe: you are a national treasure 

   and we, your students, are so grateful...Watching

  Giuseppe work is like waking slowly from a
dream."

                                                         Helen Donnelly

                             Artistic Director, Foo Productions

                    Therapeutic Clown, Holland Bloorview

                                     Kids Rehabilitation Hospital

                                                           Toronto, 2018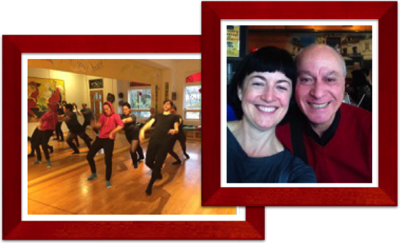 .9999
FOR FURTHER INFORFORMATION CONTACT DIRECT